Recreation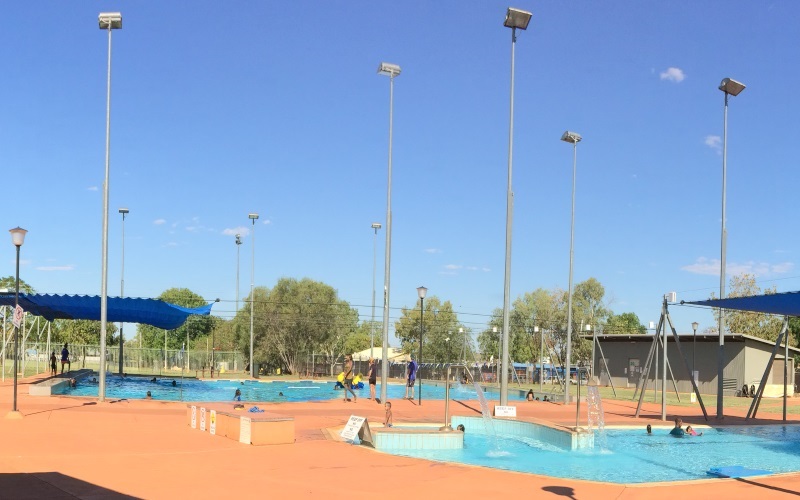 Halls Creek Aquatic & Recreation Centre
The Halls Creek Aquatic and Recreation Centre includes an adult (25m, 8 lane) pool, a children's pool, a gymnasium, covered basket ball courts. The facility is a central hub providing opportunities for social, vocational, cultural and community development as well as being a first class sport and recreation facility.
The pool, gym and basketball courts can be accessed at the times set out below or can be hired along with the meeting/activity rooms for specific times and events.


| | Public Swimming |
| --- | --- |
| Monday and Tuesday | Closed |
| Wednesday | 1.30 pm - 5.00 pm |
| Thursday | 2.30 pm - 5.00 pm |
| Friday | 2.30 pm - 5.00 pm |
| Saturday | 11.00 am - 5.00 pm |
| Sunday | 11.00 am - 5.00 pm |
Christmas Roster for School Holidays
Date Start/Finish: Friday 20th December to Sunday 2nd February 2020
School Holiday Pool Opening Hours: 5 days a week
Wednesday to Sunday: 11.00 am - 5.00 pm
Name
Monday
Tuesday
Wednesday
Thursday
Friday
Saturday
Sunday
Full-time
Jamie Copeland
Pool Closed
Pool Closed
9.30am- 5.36pm
9.30am- 5.36pm
9.30am- 5.36pm
9.30am- 5.36pm
9.30am- 5.36pm
Opening and closing dates over Christmas Holidays.
Days closed over Christmas holidays:
December 18th - 24th / 27th - 29th / January 3rd - 12th
Days open to public over 4 week period for Xmas holidays:
December 18th – 24th / 27th – 29th / January 3rd – 12th
After January 12th the pool will go back to normal public opening hrs which will be 11am – 5pm
The pool will not open to public till 4pm on these dates December 20th and January 3rd due to there being pool parties from 6pm – 9pm
Free Pool Entry

Entry to the pool is free of charge, however children 10 years old or younger must be supervised by an adult (being 16 years or older).
Gym Opening Hours
The gym is open to casual users and 10 pass ticket holders at the same time that the pool is open (see above). It is also open to gym members who hold an after hours access card from 5.30 am to 10.00 pm everyday of the year.
Gym membership and after hours access cards can be purchased by completing an application form and paying the membership fee at our main Shire office reception (7 Thomas Street).
Gym membership can be for 10 sessions, 1 month, 3 month, 6 month or a year and includes free entry to the pool.
Gym Membership Application Form
Main Oval
The grounds have high quality night lights, change room facilities, a grandstand and toilets. The oval boasts lush green turf and is suitable for Soccer, Touch Football, Cricket and Aussie Rules Football.
Rodeo Grounds
One of Halls Creek's features is the rodeo ground, located 1 km from town on Duncan Road. This facility is the centre of action during the annual Halls Creek Rodeo Meeting. It is also an ideal venue for community events, overnight stays and private functions.
For further information regarding the booking of the Rodeo Grounds contact Kimberley Stampede Rodeo Club.