Art Galleries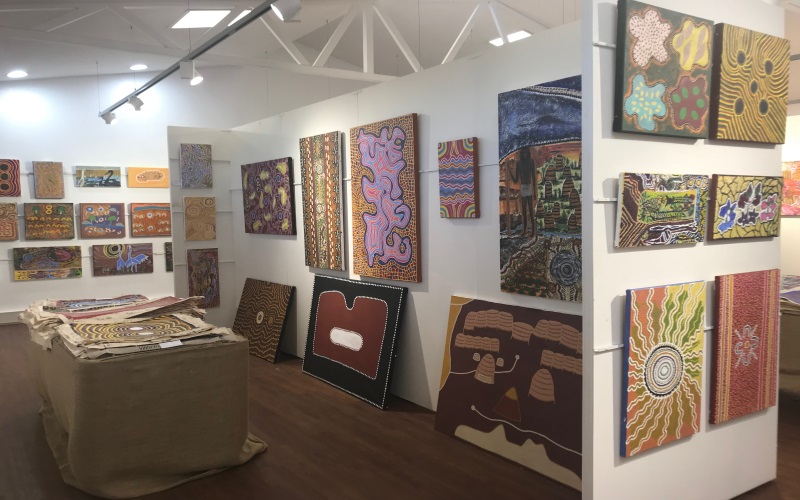 Please note: Due to the current covid-19 restrictions put in place by the WA State Government, Warmun, Ringer Soak, Balgo, Billiluna and Yiyili galleries are CLOSED TO THE PUBLIC until further notice.
The Halls Creek Gallery - Yarliyil is OPEN.
Halls Creek
Yarliyil Art Centre is based in the Township of Halls Creek.
Yarliyil Arts was first formed in 1998 and has operated from numerous locations but now operates from a modern purpose built Gallery and Studio positioned on the Great Northern Highway by the creek at the eastern end of town.
Yarliyil Arts is an Aboriginal owned enterprise and has more than 100 artist members that practice art in a wide range of styles and mediums. Artists attend the centre daily to paint and express stories of history, people, the country and cultural connection.
The name Yarliyil is the Jaru word for small paperbark tree, a tree that was used for shelter when people lived a traditional lifestyle. The prominent language groups of artists working at the Art Centre are Jaru, Gija and Walmajarri. Bonnie Deegan, LuLu Trancollino, Janet Dreamer, Maureen Deegan, Barry Demi, Nathan Thomas, Deirdre Butters, Judith Butters, Shirley and Magda Yoomarie, Dallas Fletcher are just a few of many artists that practice regularly.
Products include paintings, limited edition prints, carvings and a range of tasteful merchandise and giftware.
| | |
| --- | --- |
| Location | 300 Great Northern Highway |
| Hours | 8.00 am - 4.00 pm and by appointment |
| Phone | 0477 600 407 |
| Email | [email protected] |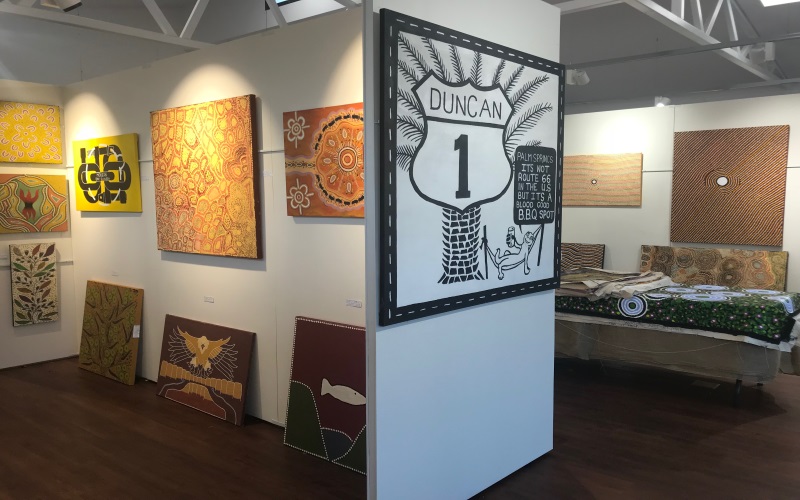 Warmun

Warmun Art Centre and artists are renowned for their use of natural ochre and pigments on canvas, which is integral to the contemporary expression of land and culture as identity for Gija people. The work of Warmun artists' is an inseparable and celebratory part of Gija culture and country, and draws on traditional Ngarranggarni (Dreaming) stories and contemporary life. Warmun art has a national and international reputation thanks to the leadership of highly successful Warmun artists like Rover Thomas and Queenie McKenzie, George Mung Mung and Paddy Jaminji.
Now internationally renowned painters Lena Nyadbi, Patrick Mung Mung, Mabel Juli, Shirley Purdie, Madigan Thomas, Gordon Barney, Phyllis Thomas, Churchill Cann and Betty Carrington lead the way for a group of more than sixty emerging and younger artists currently painting for the art centre.
This new generation of Warmun artists works with the same, time-honoured materials and stories. The emerging works display a fresh, original and vibrant style that transcends cultural boundaries and places many Warmun artists at the forefront of contemporary art in Australia.
Address: Warmun Art Centre, Great Northern Highway, Warmun, 6743, WA
Phone: +61 8 9168 7496
Email: [email protected]
Website: https://warmunart.com.au/
Facebook: https://www.facebook.com/warmunartcentre
Instagram: @warmunart
Balgo
Warlayirti Art Centre and artists specialises in fine art paintings, as well as etchings on paper, photography, film and music.
Warlayirti Artists is one of Australia's leading Indigenous art centres whose artists have a reputation for producing uniquely individual and vibrant artworks.
Located in Balgo Community, on the edge of the Great Sandy and Tanami Deserts in northern Western Australia, Warlayirti Artists, represents more than 200 artists across the three communities in the Kutjungka region – Kururrungku (Billiluna), Mulan, and Wirrimanu (Balgo).
Warlayirti is a Not for Profit Incorporation with Deductible Gift Recipient status.
Ringer Soak

Yaruman Art Centre is located in the Kundat Djaru Community also known as Ringer Soak, 170km south east of Halls Creek and only 50km from the NT border. The local language is Djaru. The Art Centre's focus is cultural maintenance and provides support for all cultural activities.
Yaruman Art and Culture Aboriginal Corporation is a not-for-profit organisation, owned and operated by the artists themselves. Critically the Yaruman Art Centre is the only source of potential meaningful economic development for the community.
(Courtesy of http://ankaaa.org.au)
Yiyili
Laarri Gallery is situated in Yiyili Aboriginal Community between Halls Creek and Fitzroy Crossing just 5km off the Great Northern Highway between Halls Creek and Fitzroy Crossing. The gallery was established in 1999 in a collaboration between Yiyili Community School and Yiyili Community Aboriginal Corporation.
Laarri Gallery, Kimberley The goal of Laarri Gallery is to provide a place for local artists to work and a space to show. At Yiyili the money raised from artwork sales goes directly back into the community, not only supporting the artists, but the community at large.
There are currently 210 paintings on display at Laarri Gallery, 50 of which are available on the website.
Each painting is an original and exclusive to Laarri Gallery. It tells a story and is supplied with a certificate of authenticity signed by the gallery curator and an Artist profile.
(Courtesy of http://ankaaa.org.au)