Halls Creek Weather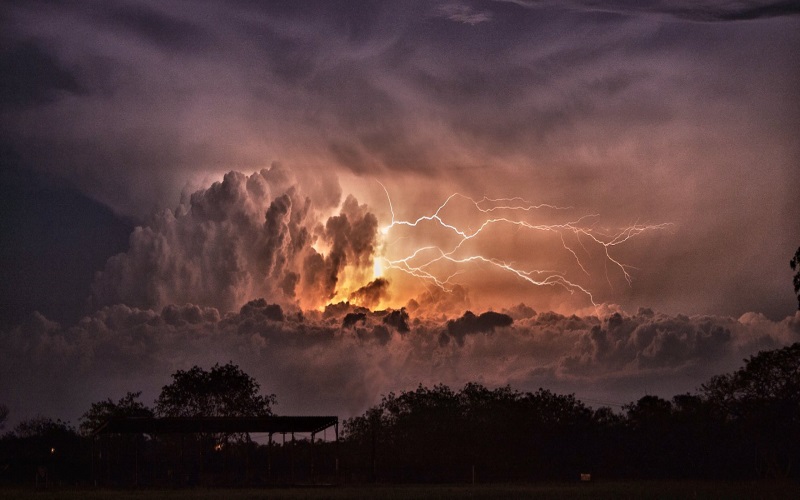 Bureau of Meteorology Weather - Halls Creek

Halls Creek has a tropical semi-arid climate due to its location between the wetter northern regions of the Kimberley and the arid Great Sandy Desert to the south.

There are two distinct seasons. The "wet", usually from December to March when 80% of the annual rain falls, and the "dry", usually from May to October when it is typically dry for very long periods.
Two transitional periods are also recognised. One before the onset of the "wet" called the "buildup" and another before the "dry" called the "change" when rain and cloud become less frequent as the monsoons retreats to more northerly latitudes.
The annual average rainfall for Halls Creek is 561.5mm though there can be considerable variation from year to year due to the variable strength of the monsoon.
The highest recorded rainfall is 1198mm in 2000 and the lowest 203mm in 1989. During the wet season the days are hot (35°C+) and the nights warm (23°C+).

Cloud typically builds up during the day and sometimes culminates in evening thunderstorms with heavy showers and spectacular lightning displays. Rain also comes from tropical lows that can develop into cyclones if the low moves over warm seas surrounding the Kimberley.

Halls Creek is sufficiently distant from the coast to be safe from the destructive winds associated with cyclones, although very strong gusts can be generated by thunderstorms. The highest wind gust recorded at the Halls Creek Meteorological Office was 143km/h on 27th January 1983.
Heavy rain at this time of the year can cause flooding affecting access to outlying communities and making some roads impassable for long periods of time. Delays are not uncommon on the Great Northern Highway especially between Halls Creek and Warmun, as most creeks and rivers on this section have only cause way crossings.
After periods of heavy rain it is advisable to obtain a road report from local police or the Shire of Halls Creek and Main Roads WA (Ph: 138 138). The Halls Creek Meteorological Office, located near the south west edge of town, is one of 50 Weather Bureau Observing Offices around the Australian Continent, its island Territories and Antarctica.
The office is staffed by three weather observers who maintain a daily program of observations, including the tracking by radar of hydrogen filled balloons to determine the changing wind speed and direction up to a height of 21 kilometres.
Anyone seeking weather or climate information or wishing to learn more about the Halls Creek Meteorological Office and its role in Australia's weather observing network is welcome to call in or phone the duty observer on 08 9168 6029.